2013 WFMJ Today Wedding
I can't believe we are planning the 12th annual WFMJ Today Wedding!  It seems like yesterday that we were planning the wedding for our first couple, Jasmine and TJ. This year's couple is Sandra Speir and David Airgood.  Sandy and Dave, as they like to be called, are from Hermitage, Pennsylvania.  Sandy works for Primary Health Network and Dave works for Penn Power.  Sandy and Dave have an...
11 rules of wedding favors →
Send guests off with one last token of your appreciation with these tips for picking and creating amazing gifts they won't want to leave behind.
How celebrities use their weddings to give back →
Sure, the lives of the rich and famous lend themselves to elaborate weddings, but with massive wealth has also come generous acts of kindness (yes, even Kim Kardashian's wedding to Kris Humphries wasn't all bad news!).
What's hot (and what's not) in wedding videography →
23 real wedding guest gripes →
Pretty much every bride knows she should not, under any circumstances, play a singles dance or put Aunt Florence next to the groom's frat buddies. But no matter how much care couples take in picking a DJ or planning the seating arrangements, wedding guests still encounter plenty of things that get under their skin.
Watch
Following their reception at the Butler, Sarah and Andrew went to Sharpsville Elementary.  Sarah works there and the faculty and staff came out in full force to celebrate Sarah and Andrew's wedding.  Honestly, this is just too cute!
Wedding bells ring at school →
Here is an article from the Sharon Herald on Sarah and Andrew's wedding!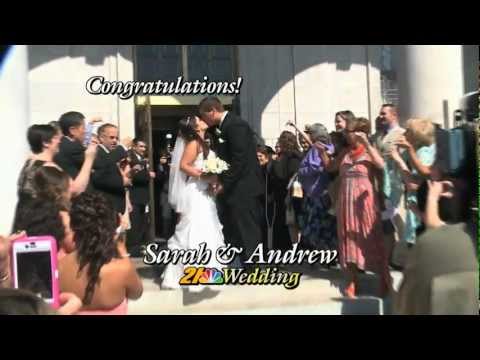 Watch
In honor of their anniversary today, we give you the soulful sounds of Mr. Matt Beggs.  This is one of our favorite WFMJ Today Wedding moments!
Watch
Some behind the scenes video from Sarah's bridal shower.  A big, big thank you to Something Borrowed, Something New and Antone's Banquet Centre.
2 tags
4 tags